Welcome to our Year 6 class page!
Year 6 team:
Class teachers - Mrs Weatherby and Mrs Brussels
Teaching assistant- Mrs Westhorpe
Our termly topic homework
After completing their SATs papers this week, year 6 were treated to a pizza party on Friday. The children were all very excited and spent time as a class over lunch time, sharing the pizza with members of staff who had helped them during the week. The party was not only a celebration of finishing the tests, but also a celebration of how proud Merton Bank is of the year 6 children. The children have worked so hard to prepare for throughout the year and Mrs Weatherby, Mrs Brussels and Mrs Westhorpe are all extremely proud of the progress they have made. Well Done year 6!
This week, year 6 were given time to spend with their buddies in reception. This was a great treat for the children after their hard week completing their SATs papers. The children joined in with the reception class, completing various activities with the younger children, as well as having lots of fun playing with their buddies. Some children played outside; colouring or on the climbing frame; while others chose to stay inside; constructing models, getting messy in the sand area, and spending time on the computers. Have a see for yourself!
This week year 6 are completing their SATs papers. As a reward for working so hard this year, the children are being treated to pizza on Friday. They are all very excited!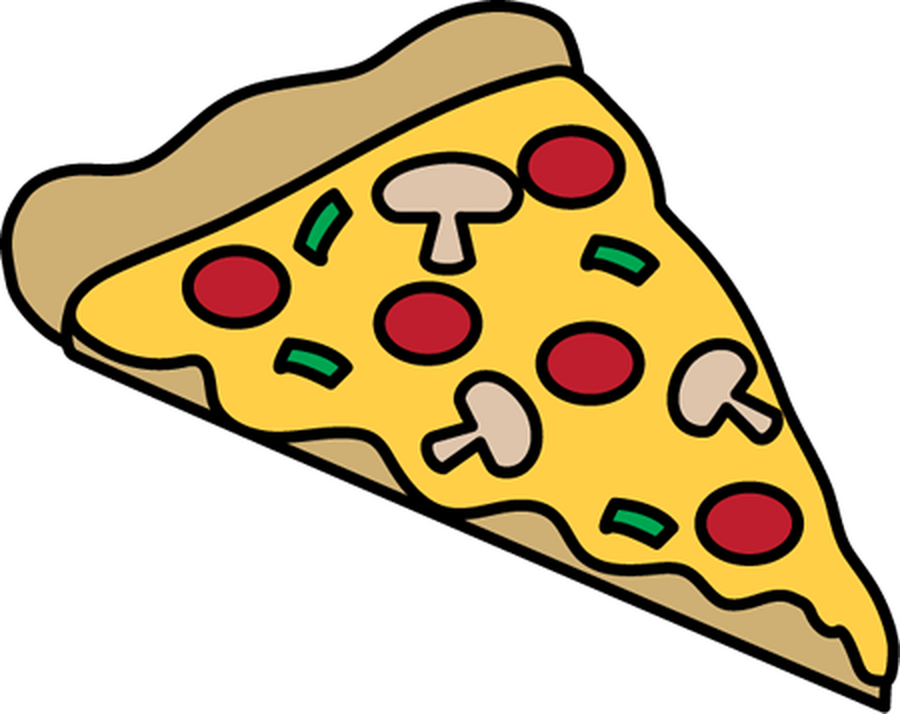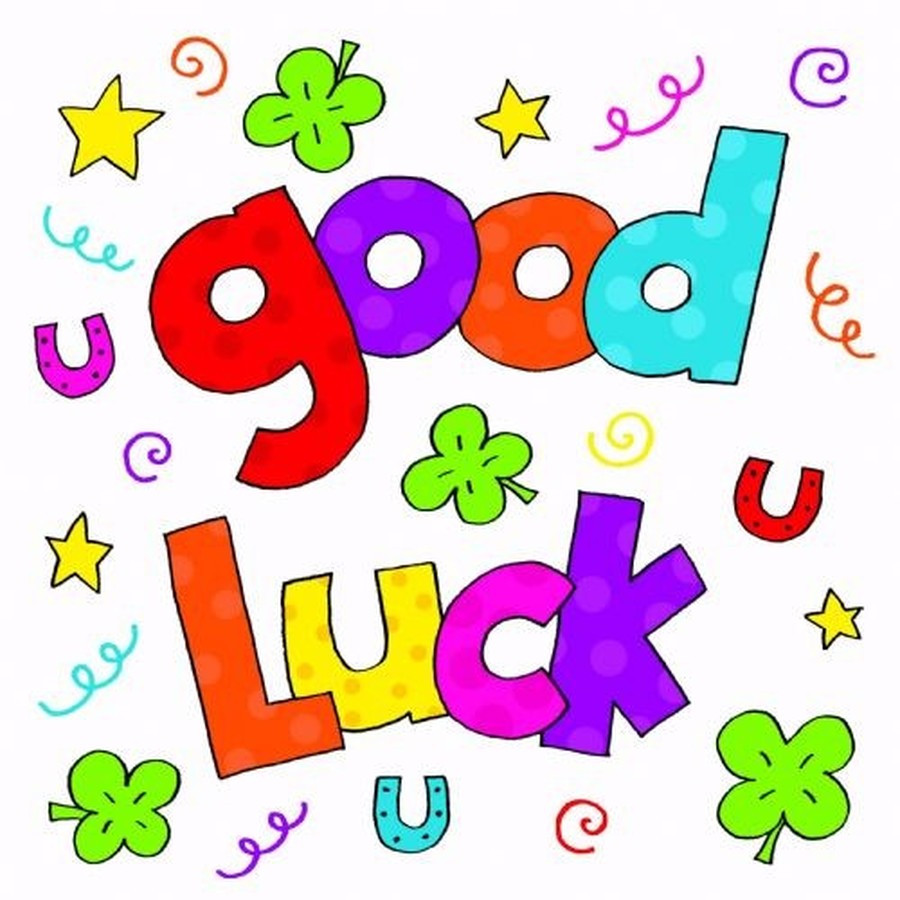 In the next few weeks, year 6 will be completing their SATs. They have all been working extremely hard this year in the run up to the tests. Mrs Weatherby, Mrs Brussels and Mrs Westhorpe are all extremely proud of the progress they have made throughout the year. Along with the rest of Merton Bank. the year 6 staff would like to wish the year 6s the best of luck during this tough time. Good Luck!
One of our current focuses in maths is area and volume. The children needed to put their problem solving skills to the test when they were given the volume of a cuboid. They had to calculate possible dimensions of their cuboid before drawing the net of the unknown cuboid, ensuring that each face was the required area. On completion of their net, they assembled their cuboid and tested, using Base10 equipment, to see if the cuboid they had created was the correct volume and area.
Our Science Topic this Term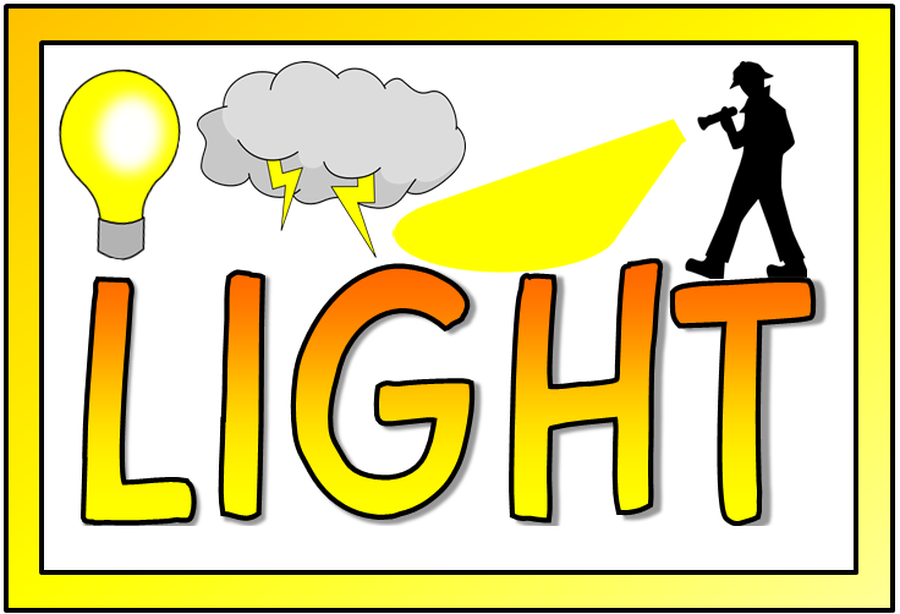 This term in science we are continuing our exploration of light. We have been looking at how light travels, refracts and creates shadows. Here's some pictures of us hard at work, investigating these key areas!
We went outside to map the position of the sun and drawing it in chalk on the playground, and stood like scarecrows to show how the position of our shadows move in accordance to the suns position in the sky throughout the afternoon.
Using some mirrors, and other objects like books and pencil cases, we showed how light travels in straight lines, bouncing or refracting until it hits another object before travelling to another.
Royal Liverpool Philharmonic Orchestra Visit
On Tuesday 14th March, year 6, along with other key-stage 2 classes went to visit the Royal Liverpool (RL) Philharmonic and watch several breath-taking performances by the Royal Liverpool Philharmonic Orchestra, conducted by Michael Seal. Led by presenter, Alasdair Malloy, the morning focused on different revolutions from across time, including various examples of musical, social, cultural and political revolutions spanning several eras in time. All of the music performed was based in-part from various composers' work, whether this be a symphony, film score, ballet or organ piece, including works from Verde and Bach. One of the highlights for all of the children was singing along to a poem, 'The Sound Collector', written by local Liverpool poet Roger McGough. The poem, that was re-imagined as a song, allowed the children to join in with the music and raise the roof of the RL Philharmonic concert hall!
Some of our year 6 girls even had the privilege of sitting in one of the royal boxes, normally reserved for VIP guests.
See if you can see them waving to the crowd below!

Thursday 2nd March 2017 marked the 20th annual World Book Day, a day for celebrating books and promoting a love for and the enjoyment of reading. At Merton Bank, including year 6, the children were involved in a number of activities that focused around literacy, reading and poetry.
To celebrate World Book Day, each class has been given a poem to study as part of their literacy lessons.
In year 6, the poem being studied is called 'If' which was written by English author Rudyard Kipling.

On Friday, everyone in school was asked to dress up as a character from a poem or nursery rhyme. This saw the school taken over by various characters like Little Bo Peep, Jack and Jill and even Baa Baa Black Sheep. The children paraded around the hall with their classmates to show off their costumes and be in with a chance of winning a trip to a local book shop! The costume competition was judged by school's very own Junior Leadership Team, made up from members of year 3, 4, 5 and 6.
Have a look at some of our costumes below! Can you see any of your characters you know from famous books or poems?
Along with the other children in Key Stage 2, the year 6s took part in the World Book Day 'Bumper Book Quiz', which allowed the children to showcase their knowledge of children's books both classic and modern. Along with a picture round, the children were challenged with 46 questions that they answered in planet teams, with some help from the various adults around the hall, along with some helpful clues from Mrs Clark.
To try the quiz for yourself, click on the link to the World Book Day website... http://www.worldbookday.com/quiz/

Performing Arts Workshop with Splat
On Tuesday, year 6, along with other classes in school, took park in one of several fun and interactive sessions focused around performing arts, drama and music.
Run by Splat from artis…, the activities are aimed at improving confidence in children.
The session this week was focused around the Vikings. This enhances the children's learning as it approaches the topic in a new imaginative way! The children, with help and guidance from Splat, developed, practiced and performed chants about the Vikings.
We performed our pieces to the beat of a drum: it helped us keep to the rhythm.
After each performance, the audience, made up of the rest of the class, commented on our performances, saying what they liked and what could be improved about each drama piece.
The class really enjoyed this session and are really looking forward to seeing Splat again!
Following on from our earlier sessions with Splat, this week we focused on working as a team, at first to complete some tricky tasks, and then to produce and perform a Viking-inspired piece of drama.
Firstly, using a piece of wood, we had to move it around the hall, using only our fingers. We started off with each partner both being able to see the piece of wood as we moved it with our fingers. This helped us to perfect certain important skills like balance and concentration. Then, to make it more difficult, Splat challenged us to close our eyes in turn so that only one of the partners could see at any one time. This was really tricky but all of the children really enjoyed themselves!
Using guidance we had learned in our last session, the children went on to practice and perform chants about the Vikings, this time using sword-like props to help them really get into character as scary Viking warriors!
We performed our pieces to the beat of a drum: it helped us keep to the rhythm.
Beowulf, Michael Morpurgo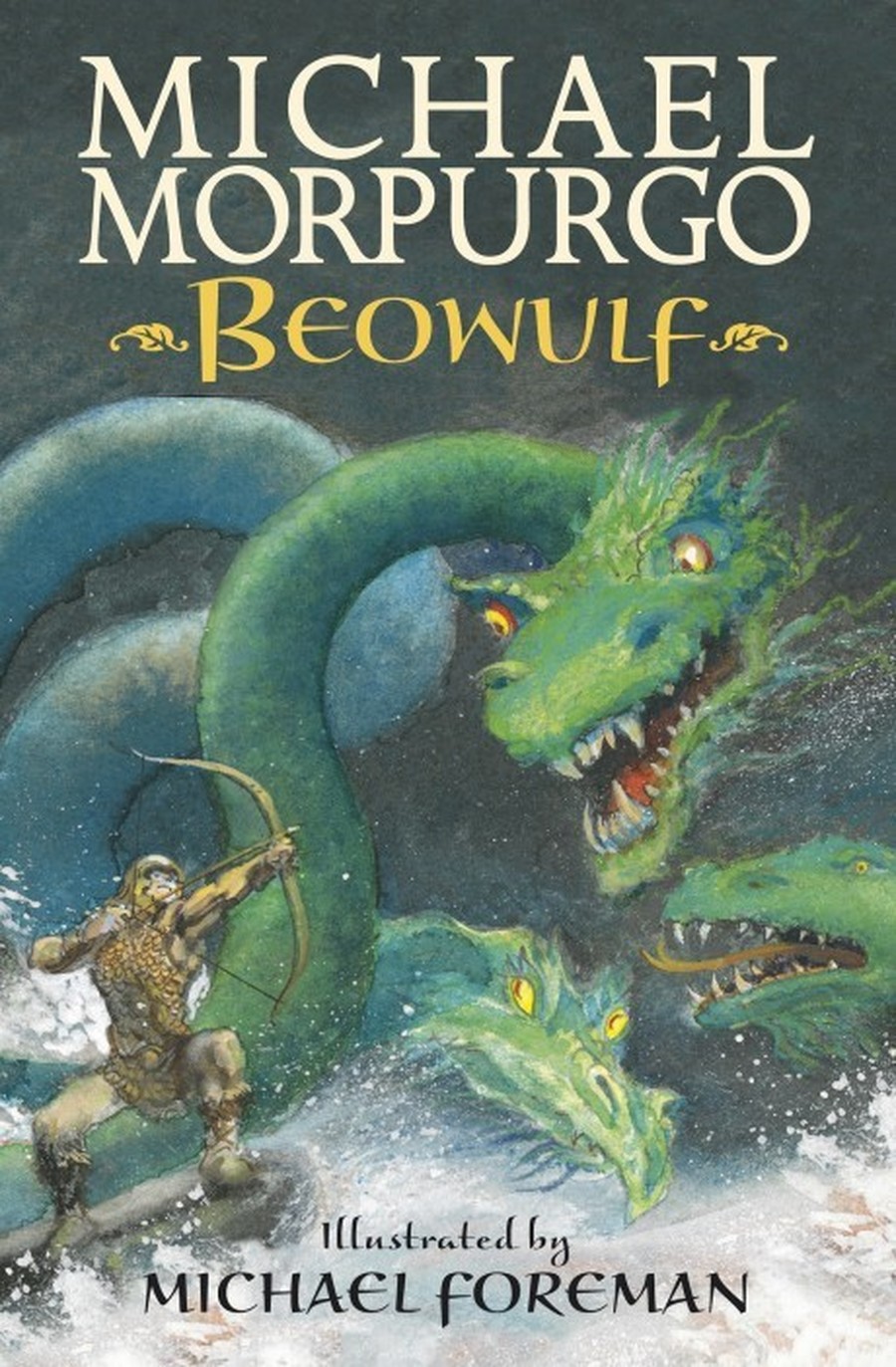 This term we are enjoying Beowulf by Michael Morpurgo during our English lessons. We are reading this book to help us with our study of the Vikings. We are all thoroughly enjoying the text and cannot wait for the next instalment!

This photo (below) was taken as part of our National Number Day celebrations!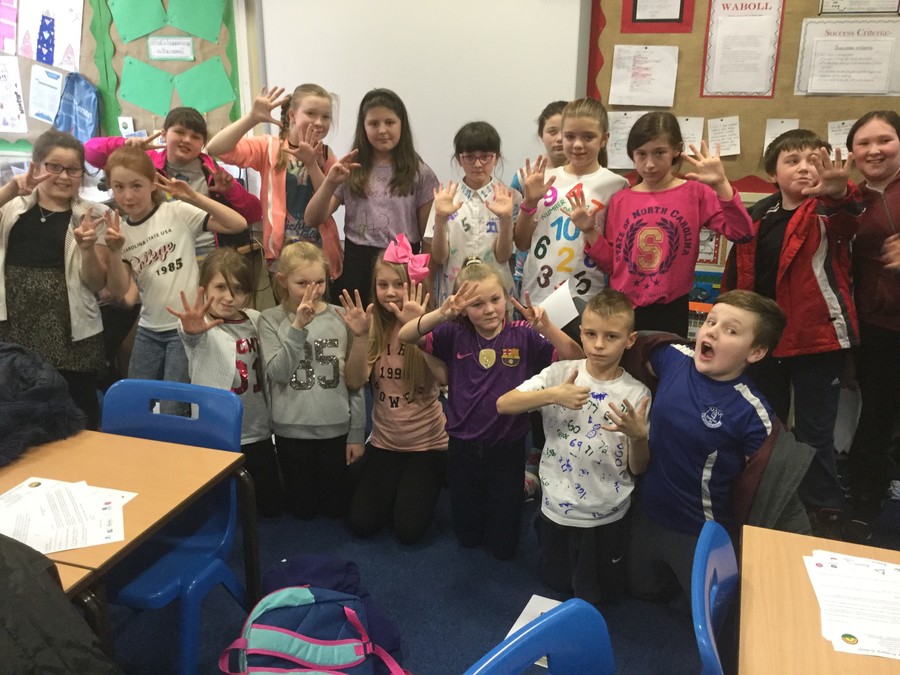 Friday 3rd February 2017 marked the NSPCC's Number Day, a fun, nationwide maths fundraising event for children and young people of all ages that helps raise money to support the NSPCC.
All of the pupils, including year 6, were encouraged to come to school in a number-themed article of clothing. Football shirts or anything with a number on! Some children even decided to get creative and design their own t-shirts covered in numbers, calculations and slogans like 'I Love Maths'.
The adults around school dressed up like dominoes, and played a game of human dominoes, much to the children's delight!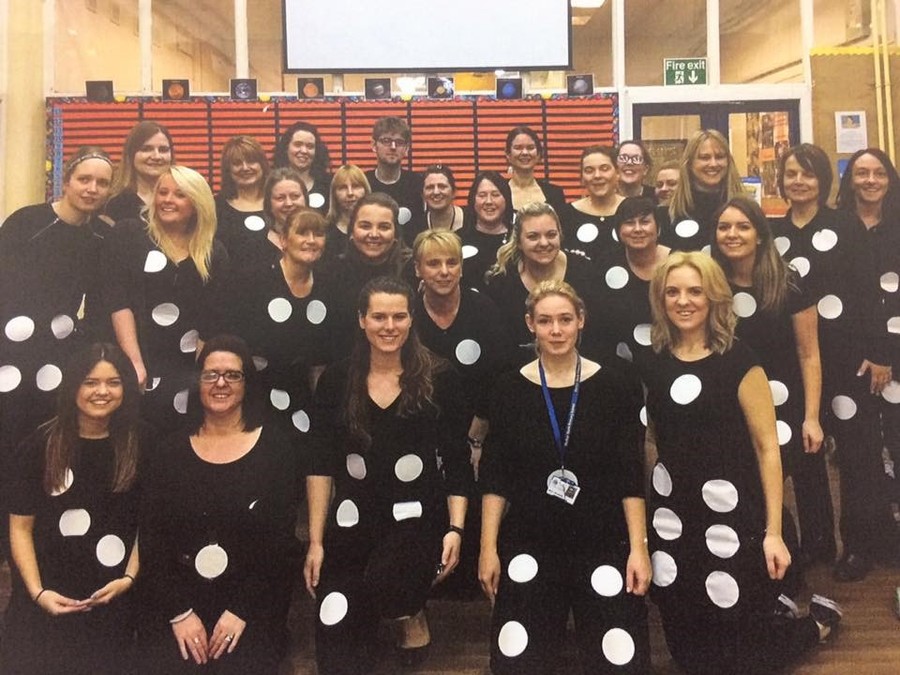 Holocaust Memorial Service

On Friday 27th January, year 6 pupils, along with Mr Roberts, Mr Smith, and Mr Sweetlove (School Governors) were invited to attend a service to mark Holocaust Memorial Day 2017. The service was held at St Helens Town Hall and was attended by the mayor, Councillor Dave Banks, and other important people. The children heard poignant and moving stories from people who have been affected by the holocaust during world war 2 and other more recent atrocities such as the massacre in Srebrenica. Our head girl, Ellie Bacon, lit a candle of remembrance, with other pupils from various schools around the borough. We listened to musical tributes from the talented high school choirs of St. Augustines and Cowley, who sang a haunting rendition of Hallelujah, giving the audience goose-bumps.
This years memorial theme is 'How can life go on?' which asks audiences to think about what happens after genocide and of our own responsibilities in the wake of such a crime. The aftermath of the Holocaust and of subsequent genocides still continues to raise challenging questions for individuals, communities and nations. This year's theme is broad and open ended which gave us lots to think about during and after the service.
To read more about this year's Holocaust Memorial Day, it's theme and to gain a deeper insight, follow the link below. http://hmd.org.uk/ (Holocaust Memorial Day Website)
The Vikings have Arrived!
Year 6 have now moved on from studying World War 1 to the Vikings and their invasion of Britain in AD 793.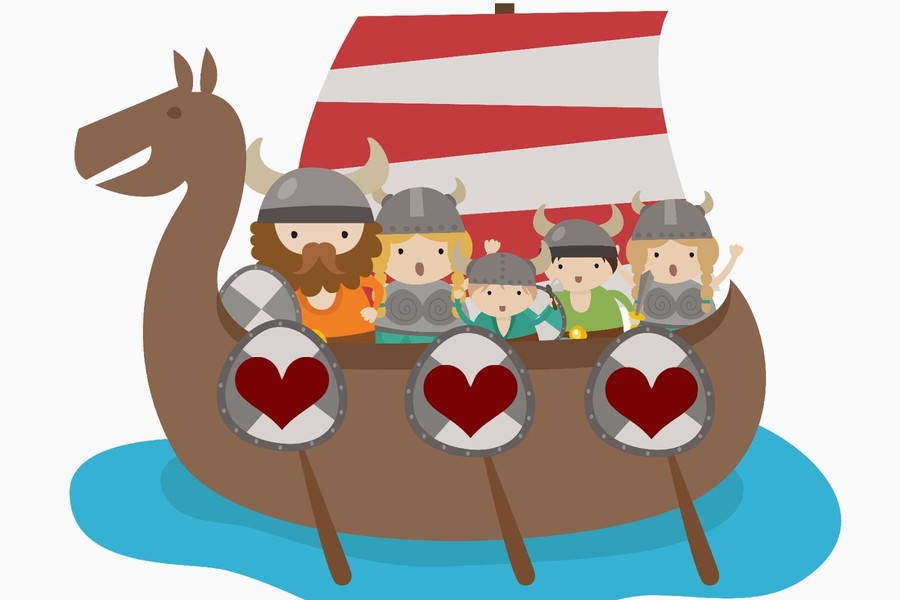 To help build up some basic understanding and reinforce some of the children's own prior knowledge, they have spent time researching interesting facts and useful information about the Vikings like where did the originate from, why did they come to Britain and what was life like to live during the time of the Vikings.
As well as studying Beowulf (Michael Morpurgo), as part of our English lessons, and learning about the Vikings during challenge skills (history and geography) lessons, the class have also been creating Viking art and crafts with Miss Dolan and Mrs Baker after school as part of their Viking Club!
On Wednesday, the children have been applying their knowledge of electrical circuits in order to update the Viking longboat, giving it a 21st century make over. Using spare cardboard from old cereal boxes, the children created their own Viking longboats before fitting them out with functioning circuits, allowing them to add propellers and even lights to help them quickly travel the seas and sail through the night! To make the circuits function correctly the year 6s had to make sure all of their components were present; a cell (battery), a motor, wires, and a propeller/light.
In our history lesson, we were asked to plot on various important dates onto a timeline. All of the dates were of some relevance to the Vikings and their invasion of Britain in the 8th Century AD. This also helped us to understand the meaning of decades.
This term we have been focusing on poetry during our guided reading and English sessions. We have been studying the poem 'Giants' by Lydia Pender. We chose to study this poem because it appears on a sample KS2 SATs paper and thought that this would be good practice in preparation for the summer tests.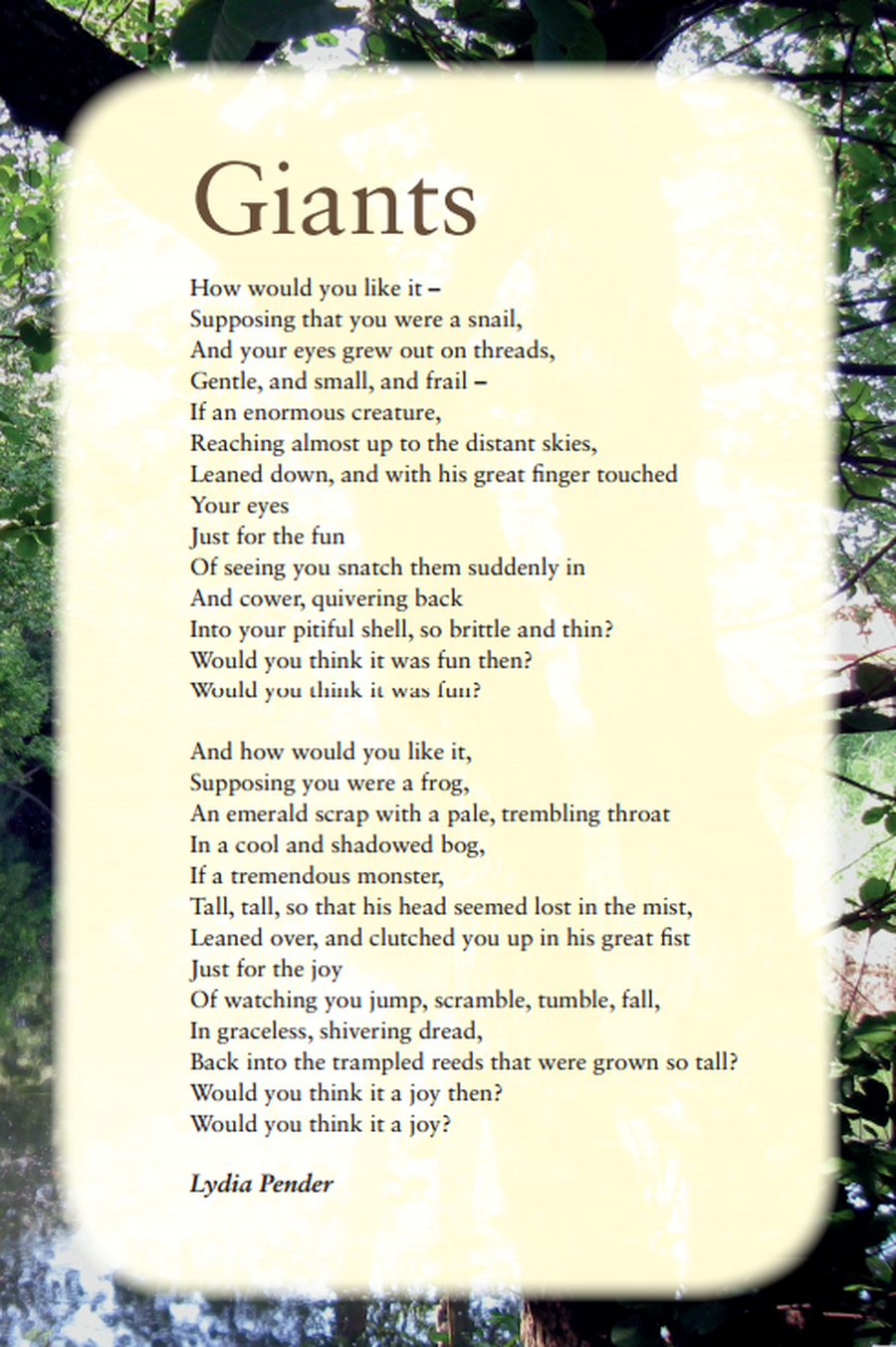 One of our targets is to perform and recite poetry so we have practised doing this as a group.
We hope you enjoy our performance!
Fractions, Decimals & Percentages
Year 6 have been doing a lot of work focusing on fractions, decimals and percentages during maths.
We have looked at finding equivalent decimals and percentages and fractions and positioned them on a number line to help us. We had to prove and explain to each other how we knew that we were right.
On Tuesday 24th January, Year 6 were visited by the St Helens Smoke-free team.
To begin with, they took part in a 'Who Wants To Be A Millionaire' style quiz to see how much the class knew about cigarettes, smoking and some of the effects.
They looked at some of the 4000 chemicals that are inside cigarettes and discussed how they affect our bodies: carbon monoxide, which is found in car exhaust fumes; arsenic, which is used in rat poison; ammonia, which is found in cleaning agents; methanol, which is used as a fuel; tar, which is used to surface roads; and nicotine, which is a powerful drug that can cause addiction.


Fact: A person who smokes 20 cigarettes a day for a whole year wastes £3,102.


The children looked at a 'tar jar' and were disgusted at the look of the thick, dirty tar that is produced from cigarettes.
This was a very informative session that gave us lots to think about.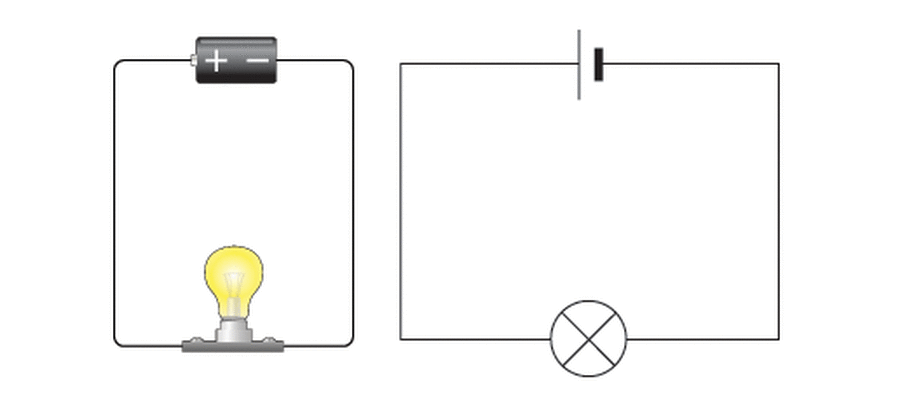 As part of their science lessons, year 6 have been looking at and building electrical circuits. Using wires, a battery (cell) and a lamp; the children had to construct a working circuit.
They knew that electricity was flowing around the circuit when the bulb lit up.
A useful site for any budding young scientists... The Blobz Guide to Electrical Circuits
On Friday 20th January, Year 6 visited St. Helens central library for a session based around Holocaust Memorial Day, which falls on the 27th January each year. The children discussed different activities that they enjoyed to do outside of school, such as listening to music and swimming, and were shocked to find out that Jewish children living in Nazi Germany could were not able to do some of these activities.
Year 6 found out Janusz Korczak, a Polish doctor, who during the Second World War founded orphanages for Jewish children inside the ghettoes. They had child courts and he made sure that the children were properly looked after with food and medicine. The children found out that Korczak developed what is now known as the Convention on the rights of a Child which affects how millions of children live around the world.
We then enjoyed an extract from The Unforgotten Coat, a book all about refugees and immigration. The book was written by Frank Cottrell Boyce, a local author from Rainhill. The children then discussed what they would do to welcome new refugees to our school.
Year 6, along with other key stage 2 classes in school took part in a MoneySense workshop in school. The workshop focused on money and budgeting, and saw the children plan a birthday party on a strict budget of £150. The workshop enabled the children to work in small groups under the supervision of three volunteers from NatWest. They shared their experience and career history with the children. All of the children received a goody bag and certificate from the bank!
Who knows, we may have a potential party planner amongst us!
For more information and some fun activities to do, see the NatWest MoneySense 8-12 webpage (click the link photo above, or the link below!).
https://natwest.mymoneysense.com/students/kids-8-12

Gamble Building's 120th Anniversary
Year 6 went to visit central library to celebrate the Gamble building's 120th anniversary. The library had a day of events where the children had the opportunity to look at historic artefacts and learn information about St Helens. The children looked at ordinance survey maps of our town, located information and even got the chance to view and handle a very special artefact using gloves. Look through our photographs to see if you can spot it!
Remembrance Service by St Helens First
Network of Schools
We visited Lowe House along with other schools to remember those that lost their lives during World War one and two.
Two children read newspapers reports that they had written. Two members of our class were involved in a moving dance.
We all contributed to the display board displayed in the church.