Our Team
Class Teacher - Mrs Baker
Teaching Assistant - Mrs Mannion
Homework projects for this term
Our Music Assembly
Year 4 have been working hard in class learning how to play the glockenspiel and the snare drum. They have been looking at music notation , scales and how to work out which notes are which by using regular sayings. They decided to demonstrate their talents through an assembly to the school and their parents. The children performed three familiar songs which got progressively harder, showing off their abilities to play simple tunes as well as tunes with rounds and alongside other instruments.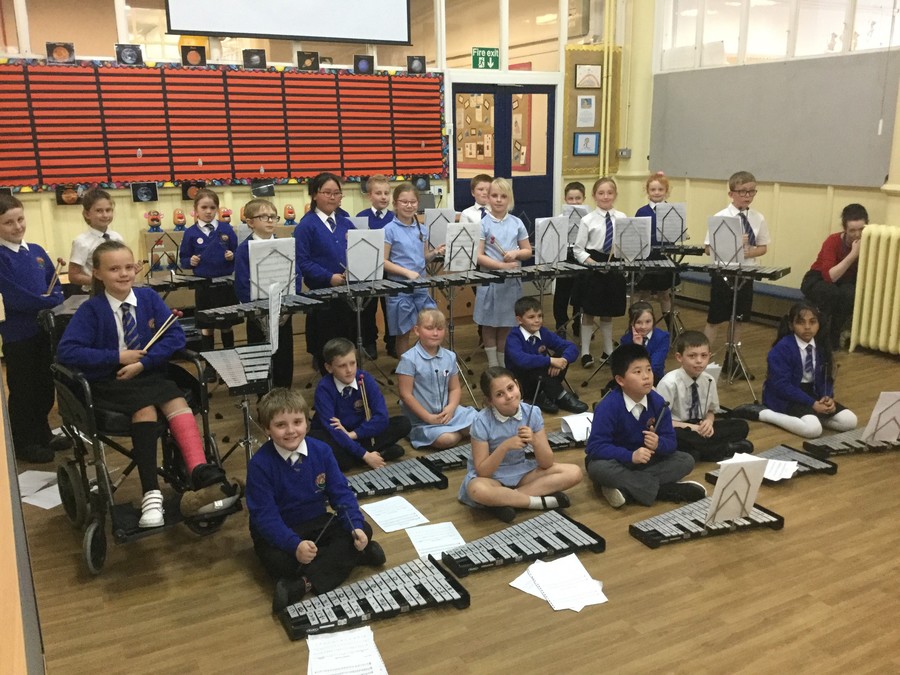 Our Trip to the Museum of Liverpool
We went to the Museum of Liverpool for our Geography topic this term learning about Liverpool and the River Mersey. We looked at the history of the docks and how the community used to use the overhead railway. We looked at old maps and tried to compare them to the maps today. A lot has changed! We also had a session with a lady who taught us all about the 1960s and why they were so important in introducing items into our everyday lives.
Where is the loudest place in school?
To start off our new science topic, we went on a sound hunt around school. We sat in different places and we made a note of the different sounds that we could hear. We then discussed which was the loudest place and which was the quietest place in school.
Planet Team Bench Ball Competition
Year 4 played alongside their Year 3 counterparts in a team bench ball competition. The planet teams showed great team work and consideration for each other. Everyone was very excited and they were feeling very competitive.
Glockenspiel Lessons
Year 4 have progressed from their drum sessions onto learning the glockenspiel which has been much more tricky as they have had to learn to read music notation as well as keeping their time and rhythm. They looked at scales how they differ. They tried to challenge themselves by using both their hands to play the notes whilst reading the music off the board.
Victory at the Rugby
Some of Year 4 took part in a rugby festival at Cowley College run by Saints Rugby Club. We played against lots of other schools and we won the competition. The team showed great team work and were very proud of their achievement.
Acting out scenes from the Twits by Roald Dahl
The children acted out the scene from The Twits where Mr and Mrs Twit go off to buy guns. They worked in pairs and thought about the moves and actions that they might have to make. They also thought about where they might have to put expression in their voices. They acted out the scene in front of the rest of the class; they even tried hard not to use the scripts. The class then gave each group feedback to improve our performances for next time this included
trying not to use the script

speaking slowly

speaking loudly enough to hear but not shouting

using the space by moving around

pretend that we're having a conversation between the characters

use the props appropriately.
The mystery of the missing Twits
The children walked into the children and found the Twits' clothes in a heap on the floor. They also found witnesses around the room who had clues about what had happened. The children, along with some of their parents, went around collecting the information that they needed to be able to write a newspaper article about the incident. They had to read the clues carefully and work out what type of information they needed to get a full picture of what happened
Create dioramas of the Twits house
The children worked in teams to follow their instructions from the previosu session to be able to create their 3D model of the Twits' house after the animals have turned everything upside down. They had to think carefully about the sizes of the objects that they were making and the order that they put them in to create a suitable effect. There were some great discussions about materials to use and fantastic teamwork trying to get their individual items to stay standing up.
Preparing for the Autumn Fair
Mrs Crosbie inspired us for the Autumn Fair, we decide to get creative with some old books. WE used second hand books and folded the pages to create Christmas tree shapes. We had to make sure that we folded our pages accurately to make a sharp point. We decorated them with small items such as pom poms and jewels to make them look like decorations. We will sell them at the school fair to the parents.
Superhero Athlete Day
We all took part in a competitive superhero day where we had to complete different athletic events such as long jump, javelin and target practice. We all got sponsored and raised lots of money. We had lots of fun, laughing and cheering each other on, even Mrs Baker had a go!
Drumming
Year 4 have started learning to play the drums. We have looked at rhythm and pulse and they have had a go at changing hands when they beat the drums. Have a look at our first session.
St Helens Rugby Club
We went on our first school trip of the year to St Helens Rugby Club for their SkyTry experience. We had a tour around the club and then learned a few rugby skills.
Is it a solid or a liquid?
We have started looking at states of matter in Science. We had to determine which of the items in our box were solids and which were liquids. There were some tricky ones...